Unify Your Team and Connect with Your Customers, from Any Device, Anywhere.
PBXact Cloud is designed for small-to-medium businesses looking for a feature-rich phone service, with built-in productivity and collaboration features, accessible from anywhere you are, on any device you choose. Integrated advanced features provides your callers with a great experience, from a professional greeting, automatic routing based on time-of-day and also options to be called back if your phone lines are tied up.
Because PBXact Cloud is a centralized internet based solution, not only are all your advanced features pushed to all your desktop and mobile devices, they are always self-aware, so that you never miss a phone call, chat messages or text messages from any of your local or remote users.
Features & Benefits
Find Me/Follow Me
Improve team collaboration & productivity with built in Find Me/Follow Me. End users can take work calls wherever and whenever they need by forwarding desk calls to their mobile devices.
Auto-Attendant
Greet callers using customized announcements and route them based on choices, company directory list or after-hours.
End User Options​
Empower end users to manage features like voicemail, presence, conference rooms and contact groups from any device.
Flexible Phone Numbers
Represent your business locally or nationally, choose a phone number or port your existing number.
Scalability​
Since PBXact Cloud is a cloud solution, you can expand with PBXact Cloud as your business needs grow.
Local & Long Distance Calling
Included with every line enjoy as much local and long distance calling, across Canada and the USA.
STEP 2
Select additional services like 'call-center' or even automatic integration with Sangoma IP Phones.
STEP 3
Register your account upon check out and start adding users, who get their own phone number, voicemail box.
STEP 4
Configure your auto-attendant greeting and office hours to automatically redirect callers based on time-of-day.
Why Cloud?
No PBX Hardware
PBXact is a fully hosted system, we take care of all the hassle of the infrastructure maintenance so you don't have to
Accessible
No matter where you are your PBX is always available. From deskphone, softphone, mobile, laptop, or through web browser with webrtc
Reliability
Using the latest data centre technology together with rigourous back-ups and resiliency means that moving to the cloud reduces risk.
Future Proof
Using a managed service in the cloud means that you are buying a future proof solution. We'll take care of all the upgrades so that you benefit from features as they become available.
Multi-Site
For businesses with more than one site a single instance of PBXact Cloud can give you telephony service across all your sites with all users experiencing the same features from the same PBX.
Take Your Office With You
Find Me/ Follow Me is included with every PBXact Cloud phone system so that business users can improve their productivity by working in and out of the office.
User Control Panel
Allow users to control their extension features directly from their personalized dashboards, completely accessibly from the internet. Users can create and monitor their own conference rooms, listen & delete their voicemails, and customize the look & feel of their popular feature with widgets and dashboards.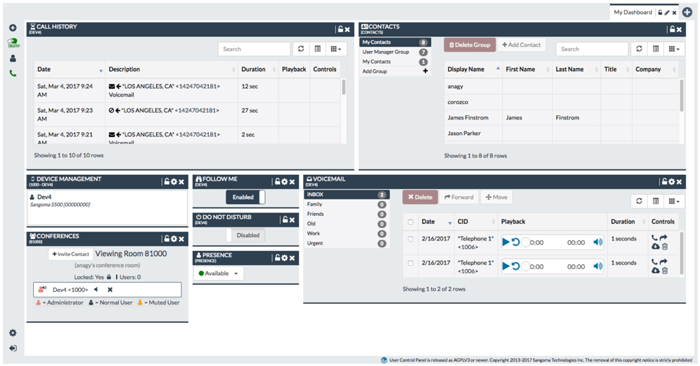 Included in All PBXact Cloud Systems
User Control Panel
Find me/Follow Me
Call Forwarding, Call Waiting, Do Not Disturb
Call Confirmation

Visual Voicemail- Playback and Management
Notification Options
Greetings Management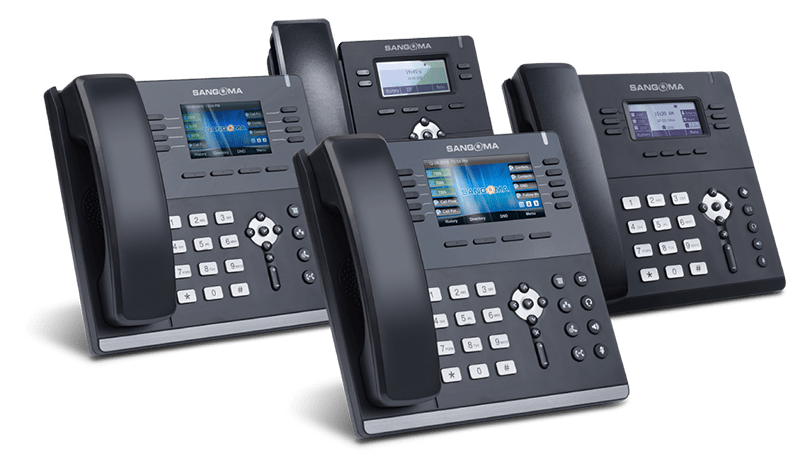 Combine Your PBXact Cloud Solution with Sangoma IP Phones
Take advantage of automatic provisioning so your phones configure themselves as soon as you plug them in! Also have access to built-in "Phone Apps" letting you take control of the Phone's display to use your most popular features. No more feature codes to remember! Best of all, you can order your phones at the same time you purchase & configure your PBXact Cloud services. This way you can have your phones delivered to you already pre-provisioned to work with your new setup.